At Oscar and Lulu we have designed luxury dog beds to spoil your pooch with our handmade Australian luxury beds.
We help you spoil your pooch.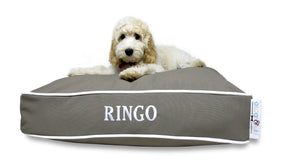 Monogram your luxury bed
Personalize your dog's luxury bed with a monogram
About Us
Oscar & Lulu is an Australian owned company. All beds and inserts are made in Australia.
Our luxury dog beds are an expression of your love for your dog, and of course, their unique personality. Oscar & Lulu luxury dog beds are made from only the very finest materials, and created by hand to provide a luxury dog bed that your friend will love for many years to come. 
Oscar & Lulu beds are stylish, contemporary and provide optimum comfort for your pooch, whilst complimenting your homes interior.
Luxurious & unique, customised beds for pooches with panache!